Spotlight events are highlighted blue on the calendar. A separate calendar is maintained for Green Spaces, Habitats and Biodiversity theme.
World Rivers Day
World Rivers Day is a celebration of the world's waterways. It highlights the many values of our rivers, strives to increase public awareness, and encourages the improved stewardship of all rivers around the world.  Rivers in virtually every country face an array of threats, and only through our active involvement can we ensure their health in the years ahead.
A brief history
In 2005, the United Nations launched the Water for Life Decade to help create a greater awareness of the need to better care for our water resources. Following this, the establishment of World Rivers Day was in response to a proposal initiated by internationally renowned river advocate, Mark Angelo.
The proposal for a  global event to celebrate rivers was based on the success of BC Rivers Day, which Mark Angelo had founded and led in western Canada since 1980.  A World Rivers Day event was seen by agencies of the UN as a good fit for the aims of the Water for Life Decade and the proposal was approved.  River enthusiasts from around the world came together to organize the inaugural WRD event.  That first event in 2005 was a great success and Rivers Day was celebrated across dozens of countries.  Since then, the event has continued to grow.  It is annually celebrated on the last Sunday of every September.  Last year, several million people across more than 60 countries celebrated the many values of our waterways.
Plan your own event
Activities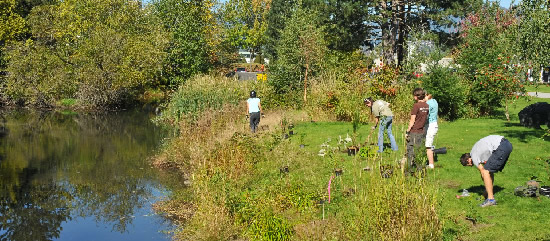 There are many types of activities that you can plan for your Rivers Day event. It is best to choose events that utilise local expertise and resources and which address local interest , customs and issues. World Rivers Day celebrations can range from a single event, like a paddle down a stream or a clean up of a stream section to a local festival with many events and features. If you are planning a large event, it is a good idea, where possible, to provide several types of activities that appeal to all ages and interest groups.
Community
One of the best ways to gain local support and participation is to involve many groups and organisations from the community.
Contact local schools, government, hospital foundations, local businesses and interest groups such as birders, paddlers, daycares, art societies, music societies, heritage societies, recycling societies, and environmental groups. Contacting and enlisting the help of a variety of groups will help your event to diversify and it will, as have many others, evolve into not only a celebration of local river heritage, but a celebration of your community and its connection to rivers and the environment.
Organise
To make the day a success, you will need to develop an organised plan and list of things to do.  We have included a PDF document to assist you in your event planning. The document includes a task list and an appreciation certificate for your volunteers.  Please feel free to modify these for your own event.
Several things to consider
Location
Where will the event or main event be held? Will you need maps? What kind of access and amenities does the site provide? If the weather is poor, is shelter available?
Volunteers
How many will you need?  What do you need to provide to ensure they can find the site and that they understand their role and jobs?  Do you have certificates to acknowledge and thank them?
Safety and Liability
Are your site and activities safe?  Will you need to consider liability and if so, can a local agency provide it for you? Do you need to have an ambulance or medic on site?
Promote
To promote your event, contact your local newspaper and ask them to do a story on your event. You can also send out press releases to local media notifying them of the event and of the groups involved and activities planned for the day. To have your event included in the World Rivers Day event updates, please send us an email and include event location, details and contact information.
Post the World Rivers Day poster with reference to your own event at local businesses or community centres. Schools, churches, local community groups and neighborhood parks are all great places to promote your event. Just be sure to pick up and recycle your flyers after your event is over! Download Poster
Radio, the internet, and television are also great mediums for promoting events and to bring attention to local rivers, issues and green initiatives along the river.
Visit the Outdoor Recreation Council website to see examples of events and to view a list of activities by region.
Contact us is you wish to add your event to a World Rivers Day update.